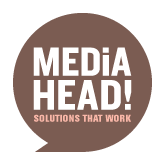 UNDERSTAND THE COMPANY WE ARE BY THE COMPANY WE KEEP.
MEDiAHEAD has worked with some of the largest and most recognized brands in Kansas City. These are the kind of brands who spend millions of dollars building, managing and protecting their brand. And, they trust us to provide distributed marketing solutions that deliver seamless brand performance.

While we didn't "write the book" on marketing and distribution portals, we did write a fairly impressive white paper for you to download.
WHAT'S INSIDE?
Reasons for engineering, architecture and construction firms to use customize portals for delivering brand consistency.
Information that demonstrates how portals create time and efficiencies.
Solutions that grow ROI.